With the pandemic hitting South East Asia, companies had to go through a brutal transformation of their organization to accommodate employees working from remote locations sometimes with unexpected notices.
To prevent the spread of COVID-19, Governments in Myanmar and Laos have enforced lockdowns with such short notice that some companies see their business disrupted because they were not prepared to shift to work from home.
Even if the era of lockdowns seems to be a thing of the past, it could happen for employees to catch COVID-19 and need to isolate themselves. To ensure business continuity, it is crucial for every company to ensure employees can work seamlessly from home.
Customer Care and Tech Support, one of the top challenges of the pandemic
Working from home can be pretty easy for those that do not work in a customer-facing position. What is really needed is a good Internet broadband, a VPN to access the enterprise network, and shared drives.
The biggest challenge lies in departments that need to deal with customers on a daily basis. How do you ensure that inbound customer calls are routed to your customer care no matter where the team is at the moment. How do you make sure that people get the support they are entitled to when your team mostly works from home?
Some of the customer channels are easier to adapt to the new normal, such as instant messaging, emails, or chat boxes. These can easily be accessed by customer agents from home.
But a lot of customers still have the habit to pick up the phone when they bump into an issue. If the company phone number is tied to a physical line that ends in an empty office, the customer will face a very disappointing experience.
Shift your Customer Service to Voice over IP (VoIP)
What if you can dissociate the phone number from a physical location? What if a phone number can just be a virtual entry point to your customer service no matter where your agents stand?
According to Wikipedia, Voice over Internet Protocol (VoIP), also called IP telephony, is a method and group of technologies for the delivery of voice communications and multimedia sessions over Internet Protocol (IP) networks, such as the Internet.
Shifting to VoIP services ensure your customer call will always be picked up. How? Because a number is not tied anymore to a physical location but to an intelligent PBX -that could sit in the cloud- that will route the call to your employees no matter where they are.
By using VoIP services, your customer service can be reached from anywhere:
From the office using a traditional phone or an IP phone
From their home using their laptop with a VoIP app
On the road using their smartphone with a VoIP app
You can create policies to ensure that calls get rerouted in case the agent is not reachable. You can also create advanced IVR (Interactive voice response) to route calls to the right department.
GDMS offers VoIP services in Laos and Myanmar. We have partnered with leading telecom operators in both countries and can lease long and short numbers (also called DID or Direct Inward Dialing) to your business.
Interested to know more about VoIP? Read our article about SIP Trunk and DID numbers
GDMS also offers Cloud PBX capabilities with advanced features such as
Auto-attendant.
Custom hold music.
Call recording.
Hold, forward, and transfer.
Three-way calling.
Simultaneous and sequential ringing.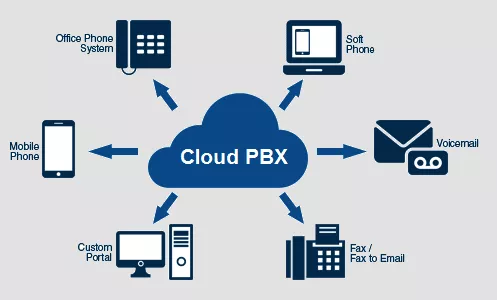 All these features can be offered "as a service" with no investment from your end. GDMS can design, implement and operate a complete call center and VoIP solutions letting the customer focus on what matters the most: his business.
The shift to Unified Communications
Unified Communications (UC) refers to a phone system that integrates multiple communication channels within a business.
UC is the next level that helps companies consolidate their support channel into one single platform. With UC, customer service can access customer information in real-time from one interface with powerful integrations.
UC can fully integrate multiple communication channels such as Instant Messaging, Voice, SMS or Chatbox.
GDMS built strong partnerships with UC technology leaders in order to help companies in Laos and Myanmar transition their phone systems to Unified Communication.
Interested to shift your enterprise communications to Voice over IP? Contact us for a private conversation!
https://www.global-dms.com/wp-content/uploads/2022/04/asian-woman-working-call-center-with-team_8087-3586.webp
418
626
Mathieu
https://www.global-dms.com/wp-content/uploads/2020/04/logo-GDMS.png
Mathieu
2022-04-26 09:51:12
2022-04-26 09:52:02
Shift your enterprise communications to VoIP