Gartner estimates that the cost of downtime is $5,600 a minute. As you continue to evolve into a digital business, you literally can't afford for applications to be unavailable. But growing data, increasing the risk of cyberattacks, and more complex regulations make it a struggle to ensure business continuity.
GDMS provides cloud-based disaster recovery that:
Gets your mission and business-critical apps protected fast
Reduces cost and complexity for disaster recovery
Offers flexibility to tailor to your unique needs
Works with your VMware environment to streamline operations
Accelerates cloud adoption
Comply with data sovereignty by keeping your data in-country
We also offer consultative services to improve outcomes and aid you on your journey to protecting the business. Interested? get in touch with us!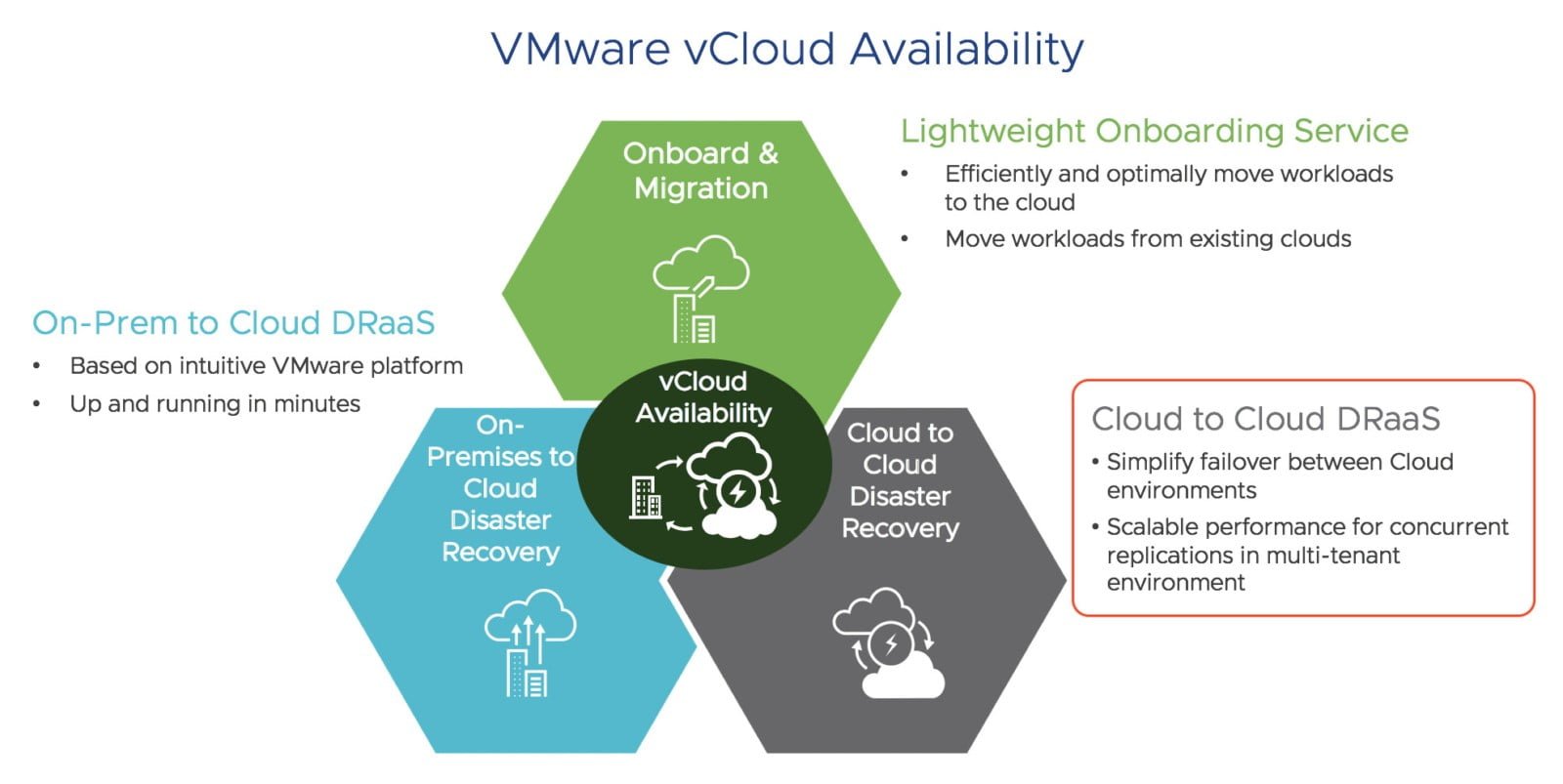 Flexible, cloud-based DR
Flexible off-premises, cloud-based disaster recovery to cloud and between clouds, covers needed hybrid scenarios – designed specifically for your VMware environment.
Unified – GDMS DRaaS is a unified solution that allows for fast, efficient disaster recovery from on-premises to cloud as well as cloud to cloud. It is unified for all vSphere clouds, supporting any vSphere site to our Cloud from within your vSphere client via a simple plugin.
Cost-Effective – GDMS DRaaS to cloud is much cheaper to manage than trying to create a Disaster Recovery platform yourself; you don't have to purchase the target hardware and software, and you rent what you need based on usage.
Supportable – Your operations teams needn't learn a new product; it is very intuitive and works inside your existing vSphere-based solutions. You are in charge of our DRaaS solution to cover your business needs.
Simple to deploy and simple to use – Deployment is a simple replication virtual appliance. Connect to the endpoint GDMS supply then start replicating and protecting.
One View – GDMS DRaaS solution delivers a smooth, integrated experience with VM/vApp context menu actions and protection indication visibility within our platform.
Quick to protect – As it is based on vSphere there are no agents to deploy and no host firewall changes, unlike Zerto and other products such as Azure Site Recovery (ASR).
Granular Protection – DRaaS works on replication and differential sync between replicants. You can configure your own timeframe for the replicants and differential sync to allow for better granularity and speed of recovery.
Suitable – GDMS DRaaS is a VMware mid-tier solution suitable, applicable for most, if not all workloads up to mission-critical. It supports up to a 5 min Recovery Point Objective which is typically good enough when looking at the criticality of most workloads.
Long Term protection – GDMS DRaaS doesn't just offer simple replications that are thrown away, you can also save replicants to meet compliance or any other need for as long as you want, consider it a backup of sorts.
Secure – GDMS DRaaS uses SLL to encrypt traffic that is put over the network from source to target to ensure there is no exposure during transit. Also, once in the Virtual Data Center target environment, multi-tenancy isolation from VMware Cloud Director ensures your workloads are separated from everyone else.
Domestic – GDMS Cloud Infrastructure is domestic (Laos and Myanmar respectively). By using GDMS Cloud infrastructure, you can be confident that your data will never leave the country.
Streamline cloud migration
Our DRaaS offers dramatically simplified, secure and cost-effective onboarding to cloud, accelerating your migration efforts.
Easy – The same mechanisms used for DR processes are highly leverageable to facilitate an easy, fast move to the cloud.
Flexible – Migrate and cutover, using a cold (complete offline sync) or warm cutover (differential sync only which is faster and has less downtime).
Customizable – Migrate in your maintenance windows; you can run migration jobs scheduled in a maintenance window to avoid business impact. The migration can also re-IP and re network instances at the target site making the move as flexible and seamless as possible.
No complex recovery – Unlike solutions that require different hypervisors there are no complex disk conversions or format changes at source and target, making cutover and DR testing simple and real. Lots of other solutions advertise simple DRaaS, but unless the source and target are on the same hypervisor, recovery is never automatic out of the box. The same mechanisms used for DR processes are highly leverageable to facilitate an easy, fast move to the cloud.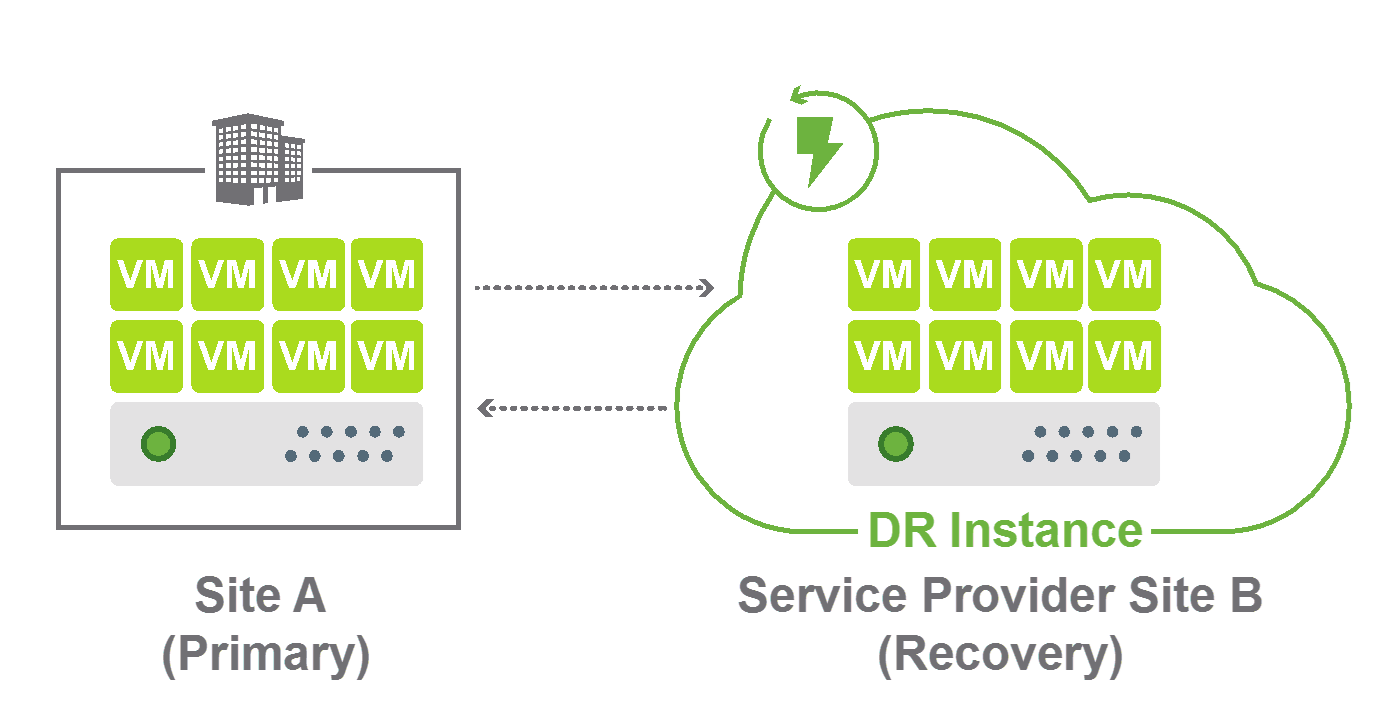 Speed and simplicity
It's easy to get started with zero capital investment, a short time to being protected, and no new skills required. The ability to add business resilience without increasing your skills gaps overcomes one of the biggest hurdles in adopting new technologies.
Your DRaaS VMware-native solution uses the same vSphere replication underlying technology, so no changes are required to on-premises hosts
GDMS DRaaS is a self-service offering (and managed service) and will allow you to run replication on your vSphere client to our target cloud or from our target cloud. You have complete synchronous control – you can execute failover from each end and configure from each end too. The same applies to cloud to cloud DR where your only interface is GDMS's Cloud Director platform.
No agents to deploy! Once you have signed up, simply install the vCenter plug-in and deploy the replicator appliance – most of the configuration happens on GDMS's side; you simply choose what to protect.
Improve business continuity
Disaster recovery is an important part of your business continuity plan. Cloud-based DRaaS provides safety from disasters that may impair your applications and infrastructure.
DRaaS is a part of a broader Business Continuity plan, but an essential part. As an essential part it needs regular testing; this should be a best practice for all customers. Testing can be executed easily and simply without impacting existing replications (you are always protected), and is not just a simulation, it is a real copy up and running. Testing is non impactful and completely customizable from the start up order of VMs to modifying networking so as not to clash with other workloads. Testing is in your hands; it's your business continuity plan, and you are responsible for ensuring it works.
Additional professional services are available for business continuity planning, DR onboarding, configuration assistance and more.
Leverage investments / Lower TCO
Streamline DR processes by leveraging existing VMware investments, reducing cost as well as overhead.
Benefit from a subscription-based, competitively priced solution designed with core features to minimize costs.
Managed DR reduces complexity and overhead by having a trusted partner own core DR operational work as well as make sense of regulatory and compliance mandates.
Your DRaaS VMware-native solution uses the same vSphere replication underlying technology, so no changes are required to on-premises hosts.
Enjoy standard vCenter console for both day-to-day IT operations and your disaster recovery solution, capitalize on your existing skills and resource user interfaces. With flexible target destination resource options and DR functionality tiers you can chose the right combination for your needs.
Your cost of ownership is kept to a minimum by only paying for what you consume in normal operation. This will just be storage and bandwidth; in failover events this will involve production compute.
Look at your business-critical applications and assign them to a faster Recovery Point Objective, with more granular replications to give you the right level of recovery time and granularity. Remember there is a trade off for mission critical and business critical coverage; the more critical, the more granular the recovery and more cost – not everything needs to be business/mission critical.
Lower your bandwidth costs with compression enabled on all replications from your on-premise to our cloud. If you wish you can also schedule the initial sync of VMs to be out of office hours to ensure no interruption to bandwidth in office hours.
Chose to save replications at any point in time for any duration, effectively creating a replicant you can recover from any time in the future.
Trusted and secure
Confidently deploy a secure solution with a certified VMware Cloud Provider managing the security.
GDMS's DRaaS is a platform service from VMware and certified for our usage.
Built-in security capabilities of our VMware platform at our target cloud but also encryption of data in transit between your site and ours using TLS encryption from end to end.
Fast, non-disruptive DR testing
Backups and DR can be worthless if organizations don't perform regular validation to ensure they'll work right when needed. Reduce risk with fast, clean simulated DR testing in minutes that enables regularly scheduled testing required for proper DR planning and validation without impacting your ongoing DR activity… or your IT staff.
Testing a VM or vAPP doesn't impact existing replication and you can test your recovery coverage and capabilities in minutes, not hours.
Unlike other DRaaS products, your target cloud is a vSphere-based cloud and hence there is zero conversion needed, minimizing the effort to test and failover and increasing the speed of your recovery to really meet the Recovery Time Objective you want.
Test and dispose of – it's easy to activate the target through a simulated test without impacting ongoing DR replication service; after validating application functionality simply remove the test replica.
Protect collection of VMs (vApps)
Enhanced grouping and protection workflows help preserve recovery priorities and network configurations for virtual apps (vApps), eliminating manual scripting and shortening RTOs.
Unified, intelligent recovery of an entire customer-defined VM group within a vAPP.
Prioritize boot order of critical machines over less critical VMs; preserve dependencies.
Automated transfer of vAPP settings and configurations such as vApp networks, gateways, guest OS customization, and properties from source to destination, drastically reducing the level of effort in recovery.
Bandwidth monitoring
Get visibility into what DR is adding to bandwidth to help troubleshoot latency issues.
In the DRaaS UI view real-time and historic bandwidth monitoring for DR processes to help triage latency issues and to keep track of how much bandwidth is being used for replication.
Customers have the option to enable data compression before sending data over the network to mitigate performance issues. Customers concerned with the potential impact to system performance, or don't have bandwidth constraints, have the flexibility to leave this feature turned off.
Capacity reporting
Get visibility into what DR is consuming in terms of storage on the target environment.
View dashboards showing your consumption of storage and other Virtual Data Center resources to ensure you remain within the capacity for your replication needs.
https://www.global-dms.com/wp-content/uploads/2021/01/VCA_Tri-IconAsset-1-768x719-1.png
719
768
Mathieu
https://www.global-dms.com/wp-content/uploads/2020/04/logo-GDMS.png
Mathieu
2021-01-04 17:00:27
2021-04-01 17:30:22
Protect Your Business with Disaster Recovery as a Service