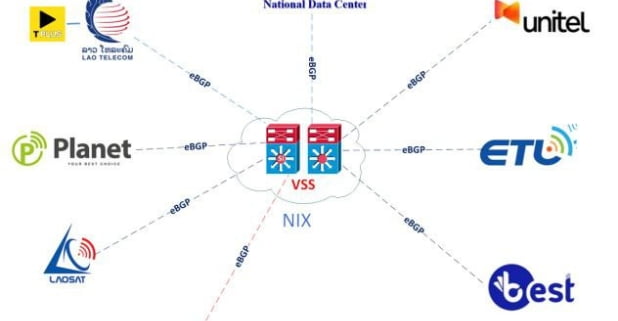 Sovereign Cloud Service Provider GDMS joins the Lao National Internet Exchange (NIX)
Introduction
GDMS has achieved a significant milestone! We are thrilled to announce that as of April 2023, GDMS has successfully established connections to Lao National Internet Exchange (NIX) with the main telecom providers in Laos, including LTC, ETL, UniTel, Planet, Best-Telecom, and Lao-SAT. Additionally, we have also connected with LANIC (Laos National Internet Center).
This achievement marks a major advancement for GDMS, expanding our network reach and solidifying our position as a leading cloud service provider in Laos.
Furthermore, the connection with LANIC is a significant collaboration. LANIC, the Laos National Internet Center, serves as a key entity responsible for managing and coordinating internet-related activities in Laos. By establishing a connection with LANIC, GDMS further strengthens its presence and collaboration within the national internet landscape, enabling us to contribute to the development of a robust digital ecosystem in the country.
What is an IXP?
An Internet Exchange Point or IXP, is a central location where Internet Service Providers (ISPs) and networks come together to exchange internet traffic directly. It helps ISPs connect and share data more efficiently, improving internet performance, reducing costs, and enhancing connectivity for end users.
What benefit for GDMS to connect to the IXP?
Direct Peering and Low Latency : By establishing connections with leading telecom providers in Laos, cloud providers like GDMS can peer directly with them. This direct peering allows for the exchange of internet traffic without intermediaries, resulting in reduced latency and improved performance. For GDMS customers, this means accessing applications and services hosted in the GDMS Cloud with very low latency and maximum throughput. The reduced delay ensures a seamless user experience and enhances the responsiveness of cloud-based solutions.
Enhanced Connectivity and Collaboration : Connecting to a domestic exchange, such as an IXP in Laos, enhances a cloud provider's network reach and connectivity within the local market. GDMS benefits from a direct presence and collaboration within the national internet ecosystem. By fostering closer relationships with local telecom providers and relevant stakeholders, GDMS can optimize its infrastructure and services based on the specific needs and characteristics of the local market. This enhanced connectivity facilitates a more efficient and reliable network for customers, resulting in improved data transfer and access to cloud resources.
Contributing to the Digital Development of Laos : The implementation of IXPs in countries like Laos plays a crucial role in improving internet connectivity, reducing costs, and increasing local content availability. By connecting to a domestic exchange, GDMS aligns with the vision of developing the digital infrastructure in Laos. This contribution supports the growth and development of the local internet ecosystem, benefiting businesses, organizations, and individuals throughout the country.
Conclusion
GDMS is committed to continuous expansion, investing in cutting-edge infrastructure, and nurturing partnerships to deliver exceptional connectivity solutions. We remain dedicated to transforming the internet experience in Laos and empowering individuals, businesses, and organizations with reliable and high-performance connectivity.
Contact GDMS today to learn more about how our cloud solutions can help your business achieve digital transformation goals!
https://www.global-dms.com/wp-content/uploads/2023/07/photo_2023-07-02_17-29-52-e1688296653916.jpg
450
618
May Yamone Oo
https://www.global-dms.com/wp-content/uploads/2020/04/logo-GDMS.png
May Yamone Oo
2023-07-02 18:11:33
2023-07-03 10:55:47
Sovereign Cloud Service Provider GDMS joins the Lao National Internet Exchange (NIX)